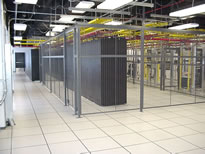 Group 88 - LeasePak Experts
LeasePak Hosted and Managed Solutions
Data Conversions
Custom Reporting with LPPlus


Group 88 Systems offers a range of hosted and managed solutions to lower the total cost of ownership (TCO) of your LeasePak system.


1
HOSTED SOLUTION
WE HOST YOUR SYSTEM IN OUR DATA CENTER:


Turn-key operation;
You own the LeasePak software licenses;
We can host your server or supply you with a VM virtual server;
We provide the data center infrastructure;
A single monthly fee covers support, IT operations and infrastructure.



2
MANAGED SOLUTION (MSP)
WE MANAGE YOUR SYSTEM IN YOUR DATA CENTER:


You own the LeasePak software licenses;
You own dedicated hardware;
You provide the data center infrastructure;
You have in-house, hands-on control of the platform;
Operation can be complete turn-key by Group 88 or can be shared with in-house IT staff;
Pay Group 88 for only those support services that are outsourced to us.



3
DISASTER RECOVERY SOLUTION (DR)
LEVERAGE OUR EXISTNG INFRASTRUCTURE:


Turn-key operation;
Rapid Recovery;
Simplified Verification.



Hosted Solutions
For a fixed monthly fee you can manage your portfolio using the industry-leading LeasePak system, without needing to invest in servers, data centers or support personnel. This frees you to focus on your business, while leaving the system management to us.
Group 88 provides a complete, 'turn-key' hosting solution that includes the data center infrastructure required to host the LeasePak system and the IT team to provide the daily operation, maintenance and support of the system.
Access to the system is provided via a secure Citrix portal. This allows the customer to access the system from home or office and allows the Group 88 team to provide support via shared screens.
We provide a secondary 'Disaster Recovery' (DR) data center, with a duplicate technology stack. Data from the primary server is replicated nightly to the DR environment for rapid standby if needed. The DR facility can also be used for additional test environments if desired.
Daily, Monthly and Annual backup tapes are generated and sent to a secure offsite repository.
We will work with you to configure your system to meet your unique business requirements and provide your users with focused training on the features you need to run your business. Our team of LeasePak experts is just a phone call away to help with any problems. We provide 15-minute response time during normal business hours.
Server Options
You may provide us with your server hardware which we can install in racks in our primary and DR data centers.
As an alternative, we offer the latest in VMware virtual server technology. We can provide you with virtual servers configured with the appropriate CPUs and memory for your needs. This saves up-front hardware costs as well as ongoing maintenance, upgrade and replacement costs.
Managed Solutions
If you prefer to keep your servers in-house, we can provide the same turn-key support from our team via a remote link to your data center.
Disaster Recovery (DR) Solutions
Add robust, always-ready disaster recovery capabilities to your existing LeasePak installation by leveraging our infrastructure. Many DR plans require you to re-build systems from backup tapes, resulting in long RTO (return to operation) times. These plans can be cumbersome to test and can carry heavy daily fees for use.
Our DR solution provides a fully operational platform that is available quickly, and that is easily tested.
Please contact us if you would like more information, or would like a demonstration of

.